Greetings: Private Music Lessons and Classes for Greater Toronto Area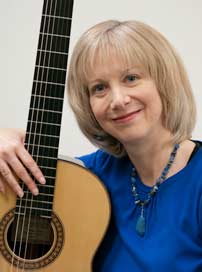 Welcome to Ware Academy of Music. I'm Lynn Ware, owner and Certified RCMusic teacher of theory and classical guitar. Peter and I have been preparing students for RCMusic theory and instrumental examinations for over 30 years. Peter received his M.M. degree in composition from Yale University, under Toru Takemitsu and Kryztof Penderecki. I completed my M.M. degree in guitar performance at Kent State University. We are both RCMusic National Gold Medal Teachers.
Our RCMusic teachers hold DMA and MM performance degrees in their area of specialization. Ware Academy Virtual Online Theory Classes for all RCMusic Exams have nurtured four RCMusic National Theory Gold Medal Winners, representing the achievement of the highest theory grades in Canada. Our teachers, parents and students form a tight community, bonding to develop personal talents. One-on-one, Virtual Online Private Lessons are available in Theory, Piano, Guitar, Violin, Viola, Flute, Piccolo, Saxophone, Clarinet, Cello, Oboe, Bassoon and Singing. Call during the day or stop by during business hours. Hope to see you soon!
Advantages of Ware Academy Harmony, History & Theory Classes
RCMusic National Gold and Regional Gold Medal Winners from Ware
What classes do I need for my Performance Certificate?
Musical Instruments: Lessons and Book packages
Meet Private Piano Teachers and Videos
Acoma History and Theory Textbooks by authors Lynn and Peter Ware provide adequate practice, clear, concise presentations and a step-by-step approach.
Our series textbooks for Acoma Company enable high grades on RCMusic Examinations.
With Four RCMusic National Gold Medals Winners in Music Theory, Ware's students achieved the highest-grade averages in Canada for all theory requirements for their ARCT. For students merely interested in passing, our unified methods and textbooks make it as easy as possible generating a low failure rate. Parents need to recognize that Harmony and History classes are 3-hour, university level exams. Study and homework practice are required! Textbooks offer an easy review before the exam with no handouts to lose.
Advantages
RCMusic National Gold Medal Teachers
Save: No Registration Fee!

Highest RCMusic Harmony and History Grades and Averages in Canada

Low Failures Rates

National and Regional Gold Medal Winners
RCMusic Certified Teachers Specialists for all levels of History, Harmony, Theory, Piano and Guitar
3 Student Concerts a Year
Plus: Mini-Concerts at Ware Academy arranged by Teachers
See student Videos, Pictures, Recitals and Information on FACEBOOK
See student Videos on YouTube!
Competition Winners:
CMC, CCC, NYMF, Kiwanis, MMF
Instructor Music Degrees from:
Yale University, Cornell University, Indiana University, Manhattan, Kent State University, University of Cincinnati Collage Conservatory of Music, McGill University, University of Toronto,
University of Montreal, Victoria University, Virginia Commonwealth University, University of Western, University of British Columbia.
Mandarin, Cantonese, English, Korean, French, German, and Russian
Restraints & Shopping
Information
RCM School Number: 50795
Text (Chinese or English): Click here to text us!
Instrumental and vocal evaluations/assessments (by appointment)
Leave questions and "LIKE" us on FACEBOOK!
Ware Academy of Music's YouTube Channel!
What classes do I need for my Performance Certificate?
Answers to common Harmony, History and Theory questions
Purpose of RCMusic Theory Classes