Private or Virtual Online Cello Teacher
Lessons in your Home!
Cindy Song, Cello Teacher
BM, University of Toronto Cello Performance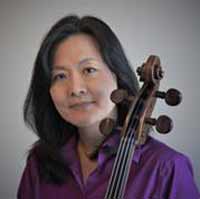 With over 25 years of teaching experience, Cindy was trained as an RCM examiner. She studied cello with Walter Joachim, Vladimir Orloff and Daniel Domb. She earned her Suzuki certification from the Chicago and Ithica Suzuki Institutes and RCMusic. As co-principal cellist of the Oshawa Symphony Orchestra from 1996 to 1999, she taught at The Rock Community Christian School and as a string coach at Peoples Christian Academy. A member of ORMTA, Cindy regularly prepares students for RCMusic examinations. She is a warm, caring teaching who is able to work with ADHD and Aspberger syndrome students.
To book an assessment or a trial lesson call
:
905-479-0591