Saxophone Teachers
James Conquer, Saxophone & Recorder Teacher
MM Canadate University of Toronto, Saxophone Performance
BM University of Toronto, Saxophone Performance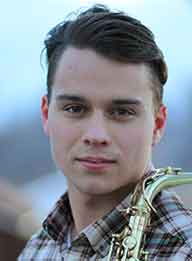 Pursuing his Master of Music under Dr. Wallace Halladay at the University of Toronto, former teachers include Chelsea Shanoff, Bruce Redstone, Marie-Chantal Leclair and Abe Kestenberg. Recent work includes the editing and Canadian premiere of Fernande Decruck's Sonate en Ut# (with the Hart House Orchestra) at the 2017 North American Saxophone Alliance Region 10 Conference in Sackville, NB.
As a member of the University of Toronto saxophone quartet he performed in masterclasses for Jim Campbell (Toronto) and Ken Radnofsky (Boston). In the contemporary music ensemble, he performed the music of Misato Mochizuki and Conlon Nancarrow. Orchestrally, he has performed with the Etobicoke Philharmonic and New Music Projects in their 2017 presentation of The Killing Flower, a modern opera by Salvatore Sciarrino.

Micaela studied saxophone with Wallace Halladay and Robert Carli at U or T. She enjoys performing in musicals on saxophone and clarinet with the Hart House Theatre in Toronto, the Yes Theatre in Sudbury, the Glass Half Full Productions in Port Perry and the Guild Festival Theatre in Scarborough. She is a manager at Indigo Books & Music. Availability: Mon, Tue, Thurs, Sat.

Saxophone Tone Quality
The quality of tone produced relates to the placement of the lips on the mouthpiece. It is recommended to begin with the lips one-half to three-quarters onto the mouthpiece and reed. If the mouthpiece is too far into the mouth, the tone will be honky; if it is not in far enough, the sound will be thin and airy.
Saxophone Air Stream
While fingers will depress the keys to produce notes, good players are able to play notes with the mouthpiece only through tongue placement. Lower notes use an "o" sound as in "open" with the tongue low in the mouth and a "u" sound as in "umbrella". Middle range notes use an "ee" sound as in "see", while high notes require an "i" sound as in "is".
Intermediate and advanced players benefit from 10 minutes of exercises using only the mouthpiece to refine the shape of the lower lip of the embouchure.
To book an assessment or a trial lesson call: 905-479-0591