Private Violin Lessons in North York
Violin Special
Violinist, Maggie Kasinger currently studies with Paul Kantor and Barry Shiffman at the Glenn Gould School of The Royal Conservatory. While at Vanderbilt, she studied with Carolyn Huebl (The Blair School of Music). An avid chamber musician, Kasinger studied with The Shanghai String Quartet, The American String Quartet, The Ariana String Quartet, and The Dover String Quartet. Festival participation includes The Philadelphia International Music Festival, Madeline Island Chamber Music, Brevard Music Festival, and The Hilton Head Chamber Institute.
Of note, Kasinger premiered Rose Bolton's The Coming of Sobs String Quartet at the Women by Music Festival in Mississippi. She also presented three solo recitals with The Young Artist Program in Hilton Head, South Carolina. Maggie's awards and prizes include the Myra Jackson Blair Scholarship, The Hilton Head Concerto Competition (first prize), The Philadelphia International Concerto Competition (grand prize), The Nashville Philharmonic Orchestra (grand prize), and The Curb Concerto Competition (first prize).
Kasinger enjoys teaching young musicians as well as adults. As assistant director of The Western Kentucky Strings Camp, she mentored students from ages 3-10 years old. Maggie has also performed in community outreach recitals at daycares and elementary schools supported by the Poco a Poco Program at the Blair School of Music (Vanderbilt).
Availability: Tuesday, Friday and Sunday
Jason Shiu, Violin & Viola Teacher
BM University of Toronto Violin.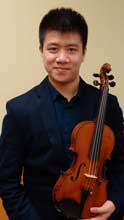 Jason Shiu is a graduate from University of Toronto, St.George Campus with a Bachelors in Music in Violin Performance. He studied under Annalee Patipatanakoon, violinist of the Juno Award-winning Gryphon Trio.  He also received coaching from by Jonathan Crow, Timothy Ying and Etsuko Kimura. He was awarded First Honors with Distinction in his Level 10 RCMusic examination (2012) and won numerous awards at the Kiwanis Music Festival. As a teen, Jason was a member of the Toronto Symphony Youth Orchestra (TSYO) under conductor Earl Lee. He has been teaching violin for 5 years at Ware Academy.
Availability: Monday, Friday, Saurday and Sunday
Sharif Alkhatib, Violin, Viola & Cello Teacher
Licentiate, ABRSM Violin Performance
B.M. Jordan Academy of Music
A mature teacher, Sharif holds diplomas from the Associated Board of the Royal Schools of Music (England), the National Music Conservatory of Boulaogne-Billancourt (France) and the National Music Conservatory of Jordan.  In Jordan, he worked for the Minsitry of Education, played in the National Orchestra and taught at the National Music Conservatory.  He played in the orchestra for the Cairo Opera House (Egypt) and the Bovri House Theatre (France).  His career allowed him travels to perform in orchestras in Germany, France,  Morocco, Turkey, Lebanon, Kuwait and Palestine.
From a musical family, his nusician parents opened the first music store in Amman, while he and his 4 siblings flourished,  preparing many students for performance exams through the ABRSM.  He teaches all string instruments. Arabic, French, & English Availability: Monday
Jessica Xiong, Violin Teacher.
ARCT Violin Performance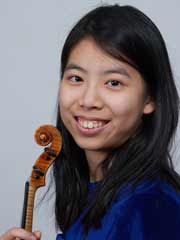 Winner of multiple prizes from competitions such as the Kiwanis Music Festival and North York Music Festival, Jessica Xiong started playing the violin since she was four years old. Jessica has been a member of the Toronto Symphony Youth Orchestra for 5 years now, having been the youngest member for 3 consecutive years. She has performed side-by-side with the Toronto Symphony Orchestra in several concerts and has gone on tour to Ottawa and Montreal. Jessica has received her ARCT Diploma in Violin Performance. Mandarin, & English. Availability: Sunday
Hear Magdalene Kasinger Perform Tchaikovsky Violin Concerto in D Major op. 35: II and III movments
Hear her in performance of Mozart Violin Concerto No. 4 in D Major, K. 218
To book an assessment or a trial lesson call
:
905-479-0591
Violin Special