Private Violin Lessons in North York
Violin Special
Alice Hong, Violin & Composition Teacher
Doctorate of Musical Arts U of T
MM Cleveland Institute of Music
BM Rice University's Shepherd School of Music
(Hear Alice in Performance of Brahms Second Sonata)

An international award-winner both as a violinist and composer, Alice Hong recently earned her Doctorate in Musical Performance at the University of Toronto under the private tutelage of Jonathan Crow, completing the degree in under two years. Experienced with a teaching range of beginner to college, Alice's students have matriculated at the Eastman School of Music and Yale University School of Music, and they have also won local positions and awards in Atlanta, Georgia such as a position in the Georgia All-State Middle School Orchestra, the Atlanta Symphony Youth Orchestra, and "Award of Excellence" At the Georgia Music Teachers Association Competition. She is experienced in prepairing students for RCM exams and is also certified in the Suzuki Method from Pre-Twinkle to Book II.
Alice was featured on CBC's 2018 edition of "30 Hot Classical Musicians Under 30" and has appeared as a composer-performer for the Atlanta Symphony's Conversation of Note series with Robert Spano. As a violinist, Alice has toured with Lincoln Center Stage on Holland America Line cruise ship, with which she is performing in 28 countries through October 2019. She has performed with the Toronto Symphony Orchestra, Charleston Symphony Orchestra, and Kitchener-Waterloo Symphony as a substitute violinist and has performed her own compositions at the Kennedy Center in Washington, DC, Spoleto Festival USA, and Heifetz on Tour. As an avid chamber musician, Alice has performed alongside esteemed musicians such as James Ehnes, Frans Helmerson, Mihaela Martin, Jonathan Crow, New Orford String Quartet, and Barry Shiffman, among others. Her performances have been featured on CBC Radio, WABE 90.1 Atlanta and WSMR 89.9 Tampa.
As a composer, Alice's pieces have been performed and read by the Toronto Symphony Orchestra, Georgian Bay Symphony, Ludwig Symphony Orchestra, CIM Symphony Orchestra, Amersfoort Youth Orchestra, and members of the New York Philharmonic, Toronto Symphony, Atlanta Symphony, Canadian Opera Company, Rolston String Quartet and Cypress String Quartet, among others. Her works are published by Edition MatchingArts and have won multiple awards from the ASCAP Morton Gould Awards as well as first prizes at the International Keuris Competition, Carl E. Baldassarre Composer-Virtuosi Competition, NorCal Viola Society Commission Contest, Pikes Peak Composition Competition, and third prize along with the audience prize for the 2018 Lands End Ensemble Composition Competition. Alice also holds degrees from Rice University's Shepherd School of Music as a Dorothy R. Starling Foundation Scholar studying with Cho-Liang Lin and the Cleveland Institute of Music. Mandarin & English.
Felipe Munoz, Violin
BM Catholic University of Chile, Vln Per.
Artist Dip. Prg. Glenn Gould School
(Meet Felipe on Video performing Bach)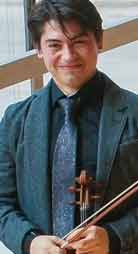 Felipe studies with Mayumi Seiler at the Glenn Gould School in the Artist Diploma Program on a scholarship funded by the Hilti Foundation. Partipating in the Canadian Opera Company's Orchesral Academy, he performed in Rigoletto.
At the Catholic University of Chile, Felipe studied with Professor Rubén Sierra and won  the "Soloists of the 21st Century"competition twice. He also won the "Young Talents" contest at the University of Concepción, enabling him to perform as a soloist with the Symphony Orchestra of Concepción. He was a member of Camerata Papageno (Chile) and Orchestra Iberacademy (Colombia,2016).
A member of the Harmony Orchestra (2015), he played alongside the Vienna Philharmonic Orchestra in the Stat Oper. He attended the Schleswig-Holstein Musik Festival in Germany, working with renowned directors as Christoph Eschenbach, playing at the Elbphilarmonie (Hamburg) and Konzerthouse (Berlin) for two years.
Felipe began teaching private students in 2011, with subsequent years teaching through the Chamber Orchestra Municipalidad de la Pintana in Santiago and Orchestra San Javier. Felipe began teaching private students in 2011, with subsequent years teaching through the Chamber Orchestra Municipalidad de la Pintana in Santiago and Orchestra San Javier. Spanish & English
Availability: Tue, Wed, Sat, Sun
Sharif Alkhatib, Violin, Viola & Cello Teacher
Licentiate, ABRSM Violin Performance
B.M. Jordan Academy of Music
A mature teacher, Sharif holds diplomas from the Associated Board of the Royal Schools of Music (England), the National Music Conservatory of Boulaogne-Billancourt (France) and the National Music Conservatory of Jordan.  In Jordan, he worked for the Minsitry of Education, played in the National Orchestra and taught at the National Music Conservatory.  He played in the orchestra for the Cairo Opera House (Egypt) and the Bovri House Theatre (France).  His career allowed him travels to perform in orchestras in Germany, France,  Morocco, Turkey, Lebanon, Kuwait and Palestine.
From a musical family, his nusician parents opened the first music store in Amman, while he and his 4 siblings flourished,  preparing many students for performance exams through the ABRSM.  He teaches all string instruments. Arabic, French, & English
Tania Cheng, Violin Teacher & Piano Teacher,
BM, BEd University of Toronto
After completing the BM in violin performance, Tania complete a teaching degree at the Ontario Institution for Studies in Education (OISE). As a teen, she attended the Young Artist Performance Academy (YAPA) from the Royal Conservatory of Music and graduated the Arts York Music program. She has been an Ontario Certified Teacher for over 9 years, blending classical and pop styles. She regularly prepares students for RCM examinations and university auditions.
Tania is a vibrant violinist and pianist performing across the GTA in public and private venues. Achievements and awards include: winner of Celebration of The Arts York Region Talent Search (solo violin), winner of the Global Minnanese Composition and Singing Competition Snd recipient of the Bob and Orlie Vincent Memorial Scholarship. Mandarin & English.
Justina Wong, Violin Teacher
BM, BEd University of Toronto. ARCT Violin Performance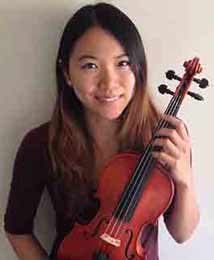 Justina is are recent undergraduate of music and music education major at the University of Toronto, Justina studied with Marie Bérard. A graduate of Univonville High School's Arts York music program, she performed with orchestras including the PJ Youth Symphony Orchestra (Malaysia), Toronto Cultural Youth Orchestra, Arts York Symphony Orchestra and York Symphony Orchestra. She has participated in Kiwanis and Music Alive festivals. Mandarin, Cantonese & English.
Jason Shiu, Violin & Viola Teacher
BM University of Toronto Violin.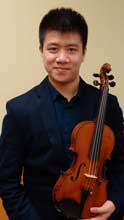 Jason is a warm, outgoing teacher very much connected with young people through his community service work. Currently in the Toronto Symphony Youth Orchestra, he is passionate about teaching and sharing his love of music.
Jessica Xiong, Violin Teacher.
ARCT Violin Performance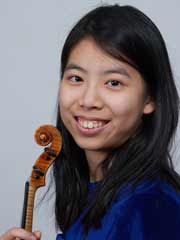 Winner of multiple prizes from competitions such as the Kiwanis Music Festival and North York Music Festival, Jessica Xiong started playing the violin since she was four years old. Jessica has been a member of the Toronto Symphony Youth Orchestra for 5 years now, having been the youngest member for 3 consecutive years. She has performed side-by-side with the Toronto Symphony Orchestra in several concerts and has gone on tour to Ottawa and Montreal. Jessica has received her ARCT Diploma in Violin Performance. Mandarin, & English.
Christopher Wong, Viola Teacher.
BM University of Toronto Viola. ARCT Viola Performance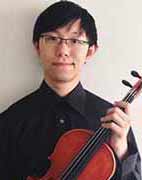 He has also studied privately with Alexander Matus and has graduated from the acclaimed Arts York music program. He has performed in masterclasses for artists such as Jacques Israelievitch, Christine Vlajk, Heidi Castleman and Eric Nowlin. Christopher has performed with the University of Toronto Symphony Orchestra, York Symphony Orchestra, Toronto Cultural Youth Orchestra, Petaling Jaya Youth Chamber Orchestra, Scarborough Choral Society and is currently a member of the Kindred Spirits Orchestra. He has received the Mamie May Scholarship, the Kiwanis Foundation Award for Strings, and has toured with various orchestras in mainland China. Mandarin, Cantonese & English.
Hear Alice Hong in Performs Brahms Second Sonata
Hear him perform Gavotte from the Partita for solo violin No. 3 in E major, BWV 1006 and an excerpt from the Chaconne for Solo Violin, from Partita No. 2 In D Minor BWV 1004
To book an assessment or a trial lesson call
:
905-479-0591
Violin Special