July Virtual RCMusic Online Classes for August Theory Exams
Note: Extended Deadline until July 3, for RCMusic August Theory Exam Registration
No RCMusic late fees for August Exam Registration. Call for details 416-493-3176
Click to Call Ware Academy of Music (416) 493-3176 or (905) 479-0591
Text: Click here to text us!
Click to Download Registration Form and Class Policy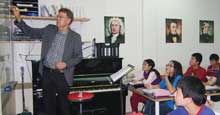 Classes begin June 29, 2020 Summer Flyer
Two classes per-week. Total of 12 Classes to exam.
Monday and Wednesday or Tuesday and Thursday.

Private Virtual Online Lessons available for vacationers. Avoid missing classes if possible. Recording of the Missed Online classes may be available, inquire.!
See frequent theory questions and their answers.
Selecting the appropriate class for RCMusic level 5, 6, 7, or 8 theory to take.
RCMusic Level 5-6 Theory Class $325
Textbook $40: Theory of the Spheres: Level 5-6 by Lynn & Peter Ware
Required for Grade 5 & 6 Performance Certificate
1. Mon & Wed 10:30 AM-12:00 PM (12 x 1.5) 18 hours hours
Begins 6-29-20 George Liu: MM U of T
Comprehensive RCMusic Level 5-8 Theory $425
Preperation for RCMusic Level 8 Theory Exam
Textbook Book $45: Comprehensive Advanced Rudiments by L & P Ware
Covers RCMusic Level 5, 6, 7, & 8 Theory Requirements. High School Credit with performance exam.
Required for Levels 8-ARCT Performance Certificate and Satisfies requirement for Level 5, 6 & 7 practical certificate.
1. Tuesday & Thursday: 10 AM - 12:30 PM (12 x 2.5 hrs) 30 hrs
Begins 06-30-20 George Liu: MM U of T
2. Tuesday & Thursday: 6:30PM - 9:00PM (12 x 2.5 hrs) 30 hrs
Begins 06-30-20 (Professor Lynn Ware, MM, KSU)
RCMusic Level 9 History $395
Textbook $45: Bach to Bernstein, by L. Harting-Ware
Required for Level 9 Performance Certificate
1. Monday & Wednesday: 10.00 AM - 12:00 PM (12 x 2 hrs) 24 hrs
Begins 06-29-20 (Dr. Paul Jessen, DMA, U of M)
2. Monday & Wednesday 6:30PM - 8:30PM (12 x 2 hrs) 24 hrs
Begins 06-29-20 (Professor Lynn Ware, MM, KSU)
RCMusic Level 9 Harmony $450
Textbook $65: Harmony of the Spheres, Vol. 1, by P. Ware
Required for Level 9 Performance Certificate
1. Tuesday & Thursday: 6:30PM - 9:00PM (12 x 2.5 hrs) 30 hrs
Begins 06-30-20 (Professor Peter Ware, MM, Yale)

RCMusic Level 10 History $395
Textbook $45: From Bingen to Beethoven, by L. Harting-Ware
Required for Level 10 Performance Certificate
1. Tuesday & Thursday 6:30 - 8:30 PM (12 x 2 hrs) 24 hrs
Begins 06-30-20 (Dr. Paul Jessen, DMA, U of M)

RCMusic Level 10 Harmony & Counterpoint $450
Textbook $65: Harmony of the Spheres, Vol. 2, by P. Ware
1. Monday & Wednesday: 6.30 - 9:00 PM (12 x 2.5 hrs) 30hrs
Begins 6-29-20 (Professor Peter Ware, MM, Yale)
RCMusic ARCT History $450*
Textbook $52.45 RCMusic Celebrate Theory ARCT History
1. Monday & Wednesday: 1:30 - 3:45PM (12 x 2.25 hrs) 27 hrs
Begins 06-29-20 (Dr. Paul Jessen, DMA, U of M)

Private Online Lessons are offered in all theory subjects.


August Examination Dates
Rudiments, History & Counterpoint Exams: Friday Aug. 9th, 2020
Rudiments, Harmony and Analysis Exams: Saturday Aug. 10th, 2020


See Private Theory Packages for all Subjects
Click to Call Ware Academy of Music (416) 493-3176 or (905) 479-0591
Click to Text: 416-728-9273